This issue of YAHSHUA'S WITNESS MAGAZINE
was published for MAY-JUNE 2006

Inside This Issue

FROM THE EDITOR
A WARNING TO OUR LEADERS by Jerry Healan

Yahweh's Principles—Our Standard by Dave Ganton

The First Month Focuses on Yahshua, Part II by Jerry Healan

Discussion Between A Yahwist and Jehovah's Witness

Do You Pronounced the Name Yahweh or Jehovah?

Physicists Prove Universe Created by Yahweh

EDITOR:

Jerry Healan

ASSOCIATE EDITOR:

John McCarty

PROOFREADERS:


Frances Healan, Jerry Healan, John McCarty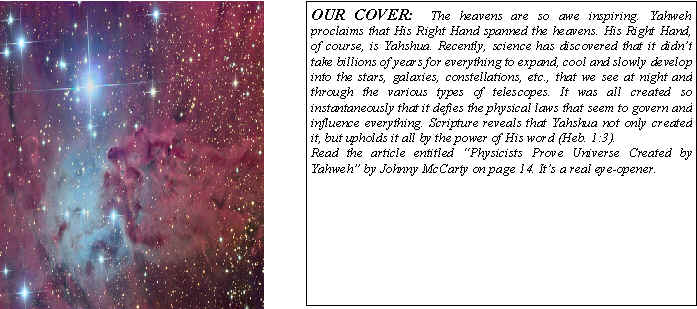 For comments or inquiries please write to YEA, P. O. Box 31, Atlanta, TX 75551.
Visit or Internet site at: hometown.aol.com/jerrheal/index.html
Or members.cox.net/thomasahobbs/yea_0.htm
The Prophet Isaiah proclaims, "Yahweh will enter into judgment with the ancients of his people, and the princes thereof: for ye have eaten up the vineyard; the spoil of the poor is in your houses. What mean ye that ye beat my people to pieces, and grind the faces of the poor? saith Yahweh, Elohim of hosts?" Isa. 3:14-15.
The Hebrew word for "poor" is aniy. It also can be translated as; humble, afflicted, depressed, needy, etc.
The Hebrew word for "ancients" is zaqen. It also can be translated as; old, aged, elder, senator, etc.
The Hebrew word for "princes" is sar. It can also be translated as; captain, chief, general, governor, keeper, lord, master, prince, ruler, steward, etc.
The Hebrew word for "eaten up" is ba 'ar. It can also be translated as; to kindle, i.e. consume (by fire or by eating); also, to be(-come) brutish, bring (put, take) away, burn, (cause to) eat (up), feed, heat, kindle, set ((on fire)), waste.
The Hebrew word for "spoil" is gezelah. It can also be translated as; that (he had robbed) (which he took violently away), spoil, violence.
Now let's project these verses into our modern day world. Our princes, our leaders in this modern day world are the president, senators, representatives and judges of the so-called Federal Government. Of course, on the state level, we have the governors, senators, representatives and judges. In the counties we have the commissioners and judges. In the cities we have the mayors, city councilmen, etc.
These elected officials find themselves in very powerful offices of influence. There are lobbyists who, because of greed, bribe these officials in order to gain favorable concessions and laws, which exalt their clients while abasing the people and true intent and purpose of the government.
These leaders are eating up the vineyard of Yahweh in the form, not only of bribes, but taxes. Taxes are "spoil." They are forcefully taken from the people against their will. If one refuses to pay his taxes, the government will come and forcefully take them from him and in many cases cast them into prison to serve time for the "evasion of taxes," or impose grievous payments upon them, with interest, until the so-called debt is supposedly paid.
Furthermore, these leaders take the spoil, the taxes and "brutishly" spend (consume) them in bills, unread and hidden addendums to bills that only benefit special interest groups. The process is called "pork barrel." Let's see, doesn't this refer to the uncleanness and the excesses of this system?
Even further, the judicial system rewards itself with fines and penalties upon perpetrators of crime, violence and other vicious deeds committed upon the innocent, while the victim that suffers the affliction is conveniently cast aside. Many victims suffer mentally, emotionally, and financially for life. In other words, there is no restitution paid to the victim, it is paid to the government instead.
Again, Isaiah decrees, "Woe unto them that decree unrighteous decrees, and that write grievousness which they have prescribed; To turn aside the needy from judgment, and to take away the right from the poor (aniy) of my people, that widows may be their prey, and that they may rob the fatherless! And what will ye do in the day of visitation, and in the desolation which shall come from far? to whom will ye flee for help? and where will ye leave your glory? Without me they shall bow down under the prisoners, and they shall fall under the slain. For all this his anger is not turned away, but his hand is stretched out still," (10:1-4).
Mr. President, Mr./Ms. Senator, Mr./Ms. Representative, Mr./Ms. Governor, Mr./Ms. Mayor, Mr./Ms. Judge, Mr./Ms. Councilman please take note and warning. Yahweh warns that He is going to enter into judgment because you have exalted yourselves to be leaders, but have failed to properly execute your offices. You have made yourselves gloriously powerful and rich while the people are "afflicted" by your egregious behavior. You are eating up Yahweh's vine and taking the spoil into your own houses. There is yet time to repent of your ways before the "day of visitation." But we know that you don't pay attention to Him, His word, nor His warnings, therefore, you will suffer the consequences in that day.
Yahweh promises to soon overthrow your corrupt system and institute a Ruler and government, which will truly bring about peace, rest, prosperity and hope for the afflicted. That Ruler is Yahshua the Messiah and His government is the Kingdom of Heaven. May that day come soon. HalleluYah!!! JH
Do you think that you are living by the right principles and standards? Do you think that you have it all together? Elder Dave Ganton explains where our principles come from and how those principles must be the standards that we initiate and enact in our lives.
Yahweh has many descriptive titles attached to His name. These titles describe not only who He is but what He is, and what He does. One of these is Yahweh Rapha. This, in English, means Yahweh our healer. His healing power has no limits. He has the power to heal physically, spiritually, and emotionally if you will allow Him to work with you. In this study we will explore an aspect of Yahweh's healing power that may be overlooked. This is the healing of relationships between neighbours. According to Yahweh's principles, our neighbour is anyone we come in contact with in our daily lives, including spouses, children, coworkers, and yes even strangers that we may encounter for various reasons.
When a problem arises between us we cannot go back and right all of the wrongs that were done, and we cannot go back and start again where we left off with all of the same problems we had before. There must be a new start, a fresh beginning. In all that we do as believers, and followers of Yahweh, the Bible must be our guide. Scripture sets us principles to go by.
A Separation
At one time, all of us were in the position with Yahweh that we often find ourselves in with each other. Isaiah 59:2 but your iniquities have made a separation between you and your Elohim, and your sins have hid his face from you so that he does not hear. There was a separation between us that we could not close nor heal. When Yahweh called us to follow His Son Yahshua, we were His enemies. He was not our enemy, we were His enemy, and He wanted to have us as His friends, since the whole purpose of His creating us was to love us. This He does without measure. John 3:16. However, our sins separated us from Him. A reconciliation was necessary between us. A reconciliation was not possible with us in the condition that we were in. We could not go back and undo all of our sins or make right all of the wrongs that we had done. We were all under an eternal death sentence. (Ro. 6:23) Yahweh, in His wisdom and mercy, made a place from which we could have a new beginning, a fresh start with a clean slate. Yahweh made the initial call which began the reconciliation process. (Jn. 6:44).
Through Yahshua, He forgave us, wiped out the past, and set a point at which we could begin again. "And you, who were dead in trespasses and the uncircumcision of your flesh, Elohim made alive together with him, having forgiven us all our trespasses," Col. 2:13.
Note this; "forgive" is a verb in Hebrew, Greek, and English. A verb requires action to complete it. Yahweh took this action. "For Elohim so loved the world that he gave his only Son, that whoever believes in him should not perish but have eternal life. For Elohim sent the Son into the world, not to condemn the world, but that the world might be saved through him," Jn. 3:16-17. "….having canceled the bond which stood against us with its legal demands; this he set aside, nailing it to the cross," Col. 2:14. This is the action that completed the verb, "forgive." Yahshua is the evidence of Yahweh's forgiveness. It is through Yahshua that our debt was marked paid and our slate wiped clean.
There is another aspect of Yahweh's forgiveness that We must note at this point. He also put the wrongs of the past out of His mind. "For I will be merciful toward their iniquities, and I will remember their sins no more," Heb. 8:12. He does not keep a record of our wrongs. (1 Cor. 13:5 [IGNT] Last part, sets us an example. More about this later.) Yahweh has the power to do this and we can take Him at His word. Yahweh, in His love and mercy, has created a new point from which we can start. The past is forgotten. From this point forward we must strive not to repeat the wrongs of the past.
Yahweh has initiated and brought into reality forgiveness and recon-ciliation. However, this is not just a one-time forgiveness. Since we are still carnal, we will sin occasionally. (These are inadvertent sins that He will forgive. Intentional sin is covered in Hebrews 6:1-8 and Hebrews 10: 26-31). When we do sin inadvertently Yahweh is faithful and will forgive us. (1 John 1:7-10 and 1 John 2:1-2) How many times will he forgive us? This question will be answered in the following sections of this study.
Yahweh's Principles
Yahweh has set the principles of forgiveness and given us an example by using them in forgiving us. It is these same principles that He expects us to use in forgiving others who have wronged us, both those in the faith and those in the world. Why those in the world? Yahweh's forgiveness through Yahshua is not just for us (followers of "The Way") but for the whole world. (1John 2:1-2) Our forgiveness must be the same way.
Love, the First Step
Let us begin now to apply these principles to ourselves in our dealings with others. The first step in forgiveness is love. If we do not love we cannot forgive. The word used most often for love in Hebrew is Ahav and in Greek it is Agapao. These words are both verbs that denote action to complete.
Can we truly love someone who has wronged us? We are commanded to do so. (More on this shortly) There is a very important point that we must understand. Mankind, on his own cannot meet the requirements to love and forgive as Yahweh does. Why? "Because the carnal mind is enmity against Elohim; for it is not subject to the law of Elohim, nor indeed can be. 8 So then they that are in the flesh cannot please Elohim. 9 But ye are not in the flesh, but in the Spirit, if so be that the Spirit of Elohim dwell in you. Now if any man have not the Spirit of Messiah, he is none of his," Ro. 8:7-9.
It is the Ruach Ha Qodesh, the Holy Spirit within us that will enable us to obey the commands to love and forgive. Yahweh, through the Holy Spirit, is our teacher and source of our power to obey. He is love. (1 Jn. 4:8) He who does not love does not know Elohim; for Elohim is love. "And hope does not disappoint us, because Elohim's love has been poured into our hearts through the Holy Spirit which has been given to us," Ro. 5:5. We love, because he first loved us. (1 Jn. 4:19) "For Elohim did not give us a Spirit of timidity but a spirit of power and love and self-control," 2 Tim. 1:7. Believers have an advantage that those in the world do not have. They have Yahweh as partner and adviser in their life walk together. In the world "two's company, three's a crowd". In Yahweh's way of life, "Two's company, three's a blessing", Yahweh is the third partner in every relationship we have as believers.
Since the above is true, it is the responsibility for converted recipients of the Ruach Ha Qodesh to follow the principles of love and forgiveness, set by Yahweh and exhibited in Yahshua, and to show that example to those we encounter during our lives. In doing this we are accurately representing our heavenly Father and His Son, and are faithful ambassadors.
Since love is the first step in forgiveness, let's investigate Yahweh's definition of love. We will find it in the book of Corinthians.
Spiritual Mirror
The Bible is our spiritual mirror. When we look in it we must look at how it reflects us personally. It reflects to us what we should be and what Yahweh wants us to be. Our goal in this life's walk with Yahweh is to grow to the point that this mirror will be an accurate reflection of us as it is of Him and His Son. In the love chapter we have Yahweh's definition of love. "Love is patient, love is kind. It does not envy, it does not boast, it is not proud. It is not rude, it is not self-seeking, it is not easily angered, it keeps no record of wrongs. Love does not delight in evil but rejoices with the truth. It always protects, always trusts, always hopes, always perseveres. Love never fails," 1 Cor. 13: 4-8.
When we look at the different points in the above scriptures we can see how accurately they reflect Yahweh's love for us. We must look at each of these points and ask how accurately they reflect our love for others. One point I would like to bring to your attention is; it keeps no record of wrongs. Yahweh does not keep a record of our wrongs. Remember; Heb. 10:17 "I will remember their sins and their misdeeds no more."
We must be as willing, as Yahweh is, to forget the wrongs committed against us. When we do this it opens the way for a new beginning. Yahweh has given us this point of new beginning and we also must give this point of new beginning to others as well or this scripture is not a true reflection of us.
Fruit of the Spirit
Another excellent scriptural mirror to look into is the fruit of the Spirit. "But the fruit of the Spirit is love, joy, peace, patience, kindness, goodness, faithfulness, gentleness, self-control; against such there is no law," Gal. 5:22-23. This is the fruit that the Holy Spirit within us must be producing.
Notice that the above points are not "fruits" but are all a part of one fruit. If one ingredient is lacking the fruit is not complete. Note that the first ingredient in this fruit that is mentioned is "Love". Also note from 1 Cor. 13:13 that of the three things that abide forever, faith, hope, and love, that the most important of these is love. This is because Yahweh is love. "He who does not love does not know Elohim; for Elohim is love," 1 Jn. 4:8. I would like to point out an ingredient in this fruit — Patience. This could be the most difficult ingredient to let grow within us. Please note that the first point mentioned in the love chapter is patience. Perhaps it is mentioned first because it is the most important point in showing true love. Without patience with others it is nearly impossible to reflect the rest of the ingredients in both scriptures. With Yahweh's Spirit within us, let us look at the two great commandments, realizing that we do have the power to obey them. (2 Tim. 1:7)
The Two Great Commandments
The first and greatest commandment is to love Yahweh above everything. "Teacher, which is the great commandment in the law?" And he said to him, 'You shall love Yahweh your Elohim with all your heart, and with all your soul, and with all your mind. This is the great and first commandment, And a second is like it, You shall love your neighbor as yourself'," Mat. 22:36-39. We will fulfil the first great commandment in obeying the second. "If any one says, 'I love Elohim' and hates his brother, he is a liar; for he who does not love his brother whom he has seen, cannot love Elohim whom he has not seen," 1 Jn. 4:20.
There is something here to take careful note of. The command is to love our neighbour as we love ourselves, not love our neighbour as he loves us. We are to love our neighbour whether he loves us or not. Yahshua tells us this very thing. "For if you love those who love you, what reward have you? Do not even the tax collectors do the same?" Mat. 5:46. "If you love those who love you, what credit is that to you? For even sinners love those who love them," Lk. 6:32. How do we show this love even if they don't? "But I say unto you, Love your enemies, bless them that curse you, do good to them that hate you, and pray for them which despitefully use you, and persecute you," Mat. 5:44. "Bless them that curse you, and pray for them which despitefully use you," Lk. 6:28.
This is not a principle exclusive to the New Testament. Yahweh does not change. "If you meet your enemy's ox or his donkey going astray, you shall surely bring it back to him again. If you see the donkey of one who hates you lying under its burden, you shall refrain from leaving him with it, you shall help him to lift it up," Ex. 23:4-5.
The apostle John tells us not to love in words only. "Little children, let us not love in word or speech but in deed and in truth,"
1 Jn. 3:18
. "For we are his workmanship, created in Messiah Yahshua for
good works
, which Elohim prepared beforehand, that we should walk in them,"
Eph. 2:10
.
Forgiveness
Truly converted believers take note. If we claim Yahshua as our Messiah, and we are His ambassadors we must follow His example and represent Him exactly as He is. "When he was reviled, he did not revile in return; when he suffered, he did not threaten; but he trusted to him who judges justly. We have been called to give praise and honor to Yahweh and Yahshua in word and in deed and to reflect their love and mercy to those yet in darkness," 1 Pt. 2:23. "But you are a chosen race, a royal priesthood, a holy nation, Elohim's own people, that you may declare the wonderful deeds of him who called you out of darkness into his marvelous light," 1 Pt. 2:9.
"
Maintain good conduct among
the Gentiles, so that in case they speak against you as wrongdoers, they may see your good deeds and glorify Elohim on the day of visitation,"
1 Pt. 2:12
.
We Set The Standards
The title of this study is, Yahweh's Principles, Our Standards. In this section we will come to understand that it is we who set the standard that Yahweh will use in forgiving us. Yahweh sets the principles but we set the standard. There are many scriptures that verify this. Following are a few: "For if you forgive men their trespasses, your heavenly Father also will forgive you; but if you do not forgive men their trespasses, neither will your Father forgive your trespasses," Mat. 6: 14-15.
Notice the prayer outline that Yahshua gave when asked how one should pray, especially,
"And forgive us our shortcomings, as we also have forgiven those who have failed in their duty towards us." Mat. 6:12 (Weymouth Translation, which makes the meaning much clearer.) Note that we are to even ask that Yahweh forgive us with the same standard that we use to forgive others.
This is a very serious matter not to be taken lightly. If someone has wronged you and you do not forgive them, you have made the judgment that they are not worthy to be forgiven. Consider this; "For with the judgment you pronounce you will be judged, and the measure you give will be the measure you get," Mat. 7:2 . If we wish to be shown mercy and be forgiven by Yahweh, we had better set our standards very high in dealing with our fellowman. Note the following; "For judgment is without mercy to one who has shown no mercy; yet mercy triumphs over judgment," Jas. 2:13.
The parable of the unmerciful servant has a wealth of instruction on this subject.

Matthew 18:23-34.

Pay careful attention to

verse 35, "

So also my heavenly Father will do to every one of you, if you do not forgive your brother

from your heart

." From the heart means that you not only must forgive, but you must

want

to forgive. This want or desire to forgive comes from the love that we must have for our fellow human. Remember, we have Yahweh's love within us through the Holy Spirit and it is this love that empowers us and that we reflect to our neighbour.
No Limits
Since Yahshua's disciples were still very much carnal minded, they asked a question that is natural to all of us. "Then Peter came up and said to him, 'Master, how often shall my brother sin against me, and I forgive him? As many as seven times?' Yahshua said to him 'I do not say to you seven times, but seventy times seven'," Mat. 18:21-22.
If one wishes to do the math and spend his time counting the wrongs done to us by individuals, then one must forgive an individual four hundred and ninety times. However, keeping in mind that the measure we give others is the measure Yahweh will give us in return, if we are going to count our neighbor's sins against us, we most assuredly must be counting the number of times we sin against Yahweh. If we count our neighbor's sins, Yahweh will count ours. Consider this scripture; "Blessed is the man whose sin Yahweh does not count against him and in whose spirit is no deceit," Psa. 32:2. Let us strive to follow Yahweh's example and not remember our neighbor's sins against us. (Jer. 31:34, Heb. 8:12, Heb. 10:17)
Reconciliation
With true forgiveness comes reconciliation. Reconciliation is the action that completes forgiveness, whether between us and Yahweh, or us and our neighbor. Remember, "love" and "forgive" are both verbs. This means they require action to complete. Without the action that they demand they are empty words. Let's use James' instruction concerning faith to help us understand this concept more clearly. It is the same principle. "So faith by itself, if it has no works, is dead. But some one will say, 'You have faith and I have works.' Show me your faith apart from your works, and I by my works will show you my faith," Jas. 2:17-18.
Applying this same biblical principle to forgiveness, it is meaningless without the actions to prove it. As Yahweh provided us with a fresh starting point in our relationship to Him, we must provide that fresh starting point for our brothers and sisters. This is the beginning of reconciliation that completes forgiveness. This principle is doubly important to believers. We will be sure Yahweh hears us if we follow Yahshua's instruction.
"So if you are offering your gift at the altar, and there remember that your brother has something against you, leave your gift there before the altar and go; first be reconciled to your brother, and then come and offer your gift," Mat. 5:23-24. (The inference here is, if you don't then your gift will not be accepted.)
This principle can also work in reverse. If you are offering your gift or prayer at the altar of Yahweh and remember that you have something against your brother (anyone) you must first make that right, and then offer your prayer. (Could this be why prayers go unanswered?) The only way that we can have something against our brother, or neighbour, is if there is something that we have not forgiven. If we are harboring ill feelings about someone, then there has been no forgiveness. With forgiveness, ill feeling or resentment is replaced with love and concern for the other party. When the love and concern is present, a new beginning point has been created for the offender, even if he doesn't know it.
This brings a question. If this person does not know that I have forgiven him, how can I be reconciled to him? Perhaps you can't be right away. But you have created a new starting point that in the future could bear fruit. There is a monumental scriptural example of this very thing, in which we have all received this type of forgiveness before we even knew we were forgiven.
Yahshua's Example
Consider Yahshua, "And Yahshua said, 'Father, forgive them; for they know not what they do,' And they cast lots to divide his garments," Lk. 23:34. Let us make this very personal. Each and every one of us is the "them" that Yahshua asked His Father to forgive. I was not even born, yet Yahshua asked the Father to forgive me. We are all responsible for the death of Yahshua. We are all guilty of murdering the author of life. I did not know that I was forgiven until I was twenty-six years old. However Yahshua had created the new starting point when He forgave me and died to prove it. This starting point of reconciliation did not bear fruit in me for nearly two thousand years. It was His love and kindness that drew me to Him. It will be His love and kindness reflected from you that will at some point bear fruit in the one that you forgive. The first move is yours, and mine, and every truly converted recipient of the Holy Spirit.
May Yahweh in His love and mercy grant us the desire and the power to follow His principles and set the standard at the highest point and be that beacon in the darkness that reflects His glory to our neighbor. "You are the light of the world. A city set on a hill cannot be hid. Nor do men light a lamp and put it under a bushel, but on a stand, and it gives light to all in the house. 16 Let your light so shine before men, that they may see your good works and give glory to your Father who is in heaven," Mat. 5:14.
I will let our loving Messiah's words end this study. "If you abide in me, and my words abide in you, ask whatever you will, and it shall be done for you. By this my Father is glorified, that you bear much fruit, and so prove to be my disciples. As the Father has loved me, so have I loved you; abide in my love. If you keep my commandments, you will abide in my love, just as I have kept my Father's commandments and abide in his love. These things I have spoken to you, that my joy may be in you, and that your joy may be full. "This is my commandment, that you love one another as I have loved you," Jn. 15: 7-12.
HalleluYah!!! May Yahweh bless your studies. Elder Dave Ganton
YAHSHUA IN THE TORAH

PART II

In the last issue, we discovered how the first month testifies of Yahshua. Another action takes place during the first month, which also leads to the second annual Holy Day observance. This article will reveal how Yahshua and His firstfruits are tied together.

THE WAVE SHEAF

Another important event that took place during the days of unleavened bread, which typified Yahshua was the offering of the so-called wave sheaf. Much can be gleaned concerning this wave sheaf if we study it carefully.

Israel was commanded, "Speak unto the children of Israel, and say unto them, When ye be come into the land which I give unto you, and shall reap the harvest thereof, then ye shall bring a sheaf of the firstfruits of your harvest unto the priest: And he shall wave the sheaf before Yahweh, to be accepted for you: on the morrow after the sabbath the priest shall wave it. And ye shall offer that day when ye wave the sheaf an he lamb without blemish of the first year for a burnt offering unto Yahweh. And the meat offering thereof shall be two tenth deals of fine flour mingled with oil, an offering made by fire unto Yahweh for a sweet savour: and the drink offering thereof shall be of wine, the fourth part of an hin. And ye shall eat neither bread, nor parched corn, nor green ears, until the selfsame day that ye have brought an offering unto your Elohim: it shall be a statute for ever throughout your generations in all your dwellings. And ye shall count unto you from the morrow after the sabbath, from the day that ye brought the sheaf of the wave offering; seven sabbaths shall be complete: Even unto the morrow after the seventh sabbath shall ye number fifty days; and ye shall offer a new meat offering unto Yahweh," Lev. 23:10-16.

This wave sheaf was to be the very first of sheaf or omer of the harvest. It was the firstfruits which was to be offered to Yahweh to celebrate the harvest itself. They couldn't even begin to eat of the new harvest until this wave sheaf had been offered. The Hebrew name for this wave sheaf is quite revealing in itself for it was named the omer reshiyth.

An omer is simply a measure. The term reyshiyth has to do once again with a "beginning." Remember that Yahshua is the "beginning." This omer was the beginning of the harvest, but it also was the beginning of a count down to the next holy day season. We will deal with this count shortly, but first, let's look at this term "omer."

THE OMER

"Wave sheaf" is translated from the Hebrew terms omer reyshiyth. As stated, the omer is a measure. What is an omer? How much is an omer?

In the account of gathering the manna in the wilderness, we find that each Israelite went out daily for five days gathering the manna, which was measured out with an omer, "And when they did mete it with an omer, he that gathered much had nothing over, and he that gathered little had no lack; they gathered every man according to his eating," Ex. 16:18.

But on the sixth day they gathered twice as much, two omers for each man, "And it came to pass, that on the sixth day they gathered twice as much bread, two omers for one man: and all the rulers of the congregation came and told Moses," Ex. 16:22.

This omer of manna served several important aspects. It was "bread from heaven," which was given for their sustenance. (v. 4) It was given to prove them whether they would walk in Yahweh's law or not. (v. 4) It was given for them to see the glory of Yahweh. (v. 7) It was given so that they would know Yahweh was/is their Elohim. (v. 12) It was given to lead them to Yahweh's seventh day Sabbath rest. (vv. 5, 22-23, 25-30)

The measure of the omer was, and is, an extremely important measure for us to consider. We find Israel being sustained by an omer of manna every day of their trek in the wilderness. We find that the measure of an "omer" is utilized to begin the countdown to the next holy day in succession.

It is in Exodus chapter sixteen that we learn what an "omer" is. We read, "Now an omer is the tenth part of an ephah," Ex. 16:36. It is the tenth part of an ephah? What is an ephah? We must go all the way to the book of Ezekiel to learn what an ephah is, "Ye shall have just balances, and a just ephah, and a just bath. The ephah and the bath shall be of one measure, that the bath may contain the tenth part of an homer, and the ephah the tenth part of an homer: the measure thereof shall be after the homer," Ez. 45:10-11.

Are you beginning to see that a tenth is an important figure with Yahweh? The homer was the overall measure just like in our day and age, a bushel is the overall measure. Then we begin to break the bushel down into pecks (dry measure) and/or quarts (liquid).

In Israel, the homer was the overall measure. A tenth of an homer was an ephah. A tenth of an ephah was an omer. Thus, the omer was a tithe of a tithe.

When Israel harvested their fields, they measured their grain in homers. They would tithe a tenth of an homer, an ephah, to the Levites, "And, behold, I have given the children of Levi all the tenth in Israel for an inheritance, for their service which they serve, even the service of the tabernacle of the congregation…But the tithes of the children of Israel, which they offer as an heave offering unto Yahweh, I have given to the Levites to inherit: therefore I have said unto them, Among the children of Israel they shall have no inheritance," Num. 18:21, 24.

The Levites, in turn, would tithe a tenth of the ephah, an omer, to the High Priest, "And Yahweh spake unto Moses, saying, Thus speak unto the Levites, and say unto them, When ye take of the children of Israel the tithes which I have given you from them for your inheritance, then ye shall offer up an heave offering of it for Yahweh, even a tenth part of the tithe. And this your heave offering shall be reckoned unto you, as though it were the corn of the threshingfloor, and as the fulness of the winepress. Thus ye also shall offer an heave offering unto Yahweh of all your tithes, which ye receive of the children of Israel; and ye shall give thereof Yahweh's heave offering to Aaron the priest. Out of all your gifts ye shall offer every heave offering of Yahweh, of all the best thereof, even the hallowed part thereof out of it," Num. 18:25-29.

The significance of this is that the High Priest was also a type of Yahshua the Messiah in His capacity as the Heavenly High Priest after the order of Melchizedek. The omer (tithe of a tithe) was also a type of Yahshua. The omer of manna was a type of Him as well as the wave sheaf (omer reyshiyth) of barley.

THE ESTIMATION

The grain associated with Passover and the wave sheaf (omer reyshiyth) was barley. We can establish the price of an omer of barley by going to Lev. 27, "And if a man shall sanctify unto Yahweh some part of a field of his possession, then thy estimation shall be according to the seed thereof: an homer of barley seed shall be valued at fifty shekels of silver," verse 16.

An homer of barley was valued at fifty shekels. This would make an ephah of barley, which is a tithe (tenth) of an homer, to be valued at five shekels. This, in turn, would make an omer of barley, which is a tenth or tithe of an ephah, to be valued at one half (1/2) shekel.

This value of the half shekel is important to understand for we read, "And Yahweh spake unto Moses, saying, When thou takest the sum of the children of Israel after their number, then shall they give every man a ransom for his soul unto Yahweh, when thou numberest them; that there be no plague among them, when thou numberest them. This they shall give, every one that passeth among them that are numbered, half a shekel after the shekel of the sanctuary: (a shekel is twenty gerahs:) an half shekel shall be the offering of Yahweh. Every one that passeth among them that are numbered, from twenty years old and above, shall give an offering unto Yahweh. The rich shall not give more, and the poor shall not give less than half a shekel, when they give an offering unto Yahweh, to make an atonement for your souls. And thou shalt take the atonement money of the children of Israel, and shalt appoint it for the service of the tabernacle of the congregation; that it may be a memorial unto the children of Israel before Yahweh, to make an atonement for your souls," Ex. 30:11-16.

Interestingly, the Passover was a memorial to be observed

by Israel throughout their generations. The half shekel atonement money was a memorial. The value of the omer of barley was a half shekel, thus, this would also serve as an atonement for the children of Israel. It was also offered during the Passover season all being a memorial to Yahweh, all serving as a type or example of Yahshua and His one sacrifice.

Another very interesting item is the Hebrew term for "barley." Barley is pronounced se'owrah or se'or. The Hebrew spelling is very interesting for Strong's Exhaustive Concordance reveals that the basic Hebrew letters utilized for se'or is shin, ayin, resh (

r[c). These same basic letters are utilized for the kid of the goats which was offered for an atonement on the day of atonement. The Hebrew term for goat is sa'iyr. The basic Hebrew letters are (r[c). Yahshua, of course, is our atonement (Ro. 5:9-11).

However, one other very interesting item that brings this all together is the gate or door to the tabernacle compound given to ancient Israel. The gate or door to the compound which had the altar of sacrifice just inside was called the sha'ar, and I am sure that by this time you guessed it, the basic Hebrew letters for this gate or door are (

r[c). Yahshua proclaimed that He is the door (Jn. 10:7). In the Omer, the atonement money, the kid of the goats for atonement and the door or gate to the compound, we find very powerful representatives or types of Yahshua. These all work together in order to cause us to get focused on Him.

REYSHIYTH OR FIRSTFRUITS

The "wave sheaf" is the English translation for the Hebrew words omer reyshiyth. We have explored the term omer, let us now explore the term reyshiyth. Reyshiyth is defined as; from the same as 7218; the first, in place, time, order or rank (specifically, a firstfruit). It is generally translated as; beginning, chief(-est), first(-fruits, part, time), principal thing. (Strong's Exhaustive Concordance, Hebrew Lexicon)

The reyshiyth is a firstfruit. By this it means that it is first in place, time, order or rank. It is the "beginning" of a thing. The firstborn son of a family is that family's reyshiyth. Jacob told his oldest son, "Reuben, thou art my firstborn, my might, and the beginning (reyshiyth) of my strength, the excellency of dignity, and the excellency of power," Gen. 49:3.

The firstborn son had a special blessing, "If a man have two wives, one beloved, and another hated, and they have born him children, both the beloved and the hated; and if the firstborn son be hers that was hated: Then it shall be, when he maketh his sons to inherit that which he hath, that he may not make the son of the beloved firstborn before the son of the hated, which is indeed the firstborn: But he shall acknowledge the son of the hated for the firstborn, by giving him a double portion of all that he hath: for he is the beginning (reyshiyth) of his strength; the right of the firstborn is his," Dt. 21:15-17.

The firstfruits of all things belonged to the priests, "The priests the Levites, and all the tribe of Levi, shall have no part nor inheritance with Israel: they shall eat the offerings of Yahweh made by fire, and his inheritance. Therefore shall they have no inheritance among their brethren: Yahweh is their inheritance, as he hath said unto them. And this shall be the priest's due from the people, from them that offer a sacrifice, whether it be ox or sheep; and they shall give unto the priest the shoulder, and the two cheeks, and the maw. The firstfruit (reyshiyth) also of thy corn, of thy wine, and of thine oil, and the first of the fleece of thy sheep, shalt thou give him. For Yahweh thy Elohim hath chosen him out of all thy tribes, to stand to minister in the name of Yahweh, him and his sons for ever," Dt. 18:1-5.

The omer reyshiyth (wave sheaf) was a type of Yahshua the Messiah of whom Paul declares, "Paul, an apostle of Yahshua the Messiah by the will of Elohim, and Timotheus our brother, To the saints and faithful brethren in the Messiah which are at Colosse: Grace be unto you, and peace, from Yahweh our Father and the Sovereign Yahshua the Messiah….Giving thanks unto the Father, which hath made us meet to be partakers of the inheritance of the saints in light: Who hath delivered us from the power of darkness, and hath translated us into the kingdom of his dear Son: In whom we have redemption through his blood, even the forgiveness of sins: Who is the image of the invisible Elohim, the firstborn of every creature: For by him were all things created, that are in heaven, and that are in earth, visible and invisible, whether they be thrones, or dominions, or principalities, or powers: all things were created by him, and for him: And he is before all things, and by him all things consist. And he is the head of the body, the assembly: who is the beginning (reyshiyth), the firstborn from the dead; that in all things he might have the preeminence., Col. 1:1-2, 12-18.

Notice that! Yahshua is THE BEGINNING, the reyshiyth! Paul here reveals that it was Yahshua Who created all things and furthermore, all things consist (are upheld) in and by Him. Yahshua is the beginning (reyshiyth) of all creation. Therefore, the Scriptures declare "In the beginning…," Gen. 1:1, and "beginning" is reyshiyth.

THE COUNT

Thus, the omer reyshiyth was the very first "omer" of the harvest. It was the beginning (reyshiyth) of the harvest season. But it was another type of beginning because it began the count-down to the next festival period which was termed shavout, the feast of weeks, or better known today as Pentecost.

Yahweh instructed concerning the wave sheaf, "Speak unto the children of Israel, and say unto them, When ye be come into the land which I give unto you, and shall reap the harvest thereof, then ye shall bring a sheaf of the firstfruits of your harvest unto the priest: And he shall wave the sheaf before Yahweh, to be accepted for you: on the morrow after the sabbath the priest shall wave it," Lev. 23:10-11.

Controversy has raged as to whether this "Sabbath" is the first day of unleavened bread, which is an annual holy day, or the seventh day Sabbath. The term for "the Sabbath" in verse 11 is hashabbat. The only day that was ever called hashabbat was the seventh day Sabbath.

The command continues, "And ye shall count unto you from the morrow after the sabbath, from the day that ye brought the sheaf of the wave offering; seven sabbaths shall be complete: Even unto the morrow after the seventh sabbath shall ye number fifty days; and ye shall offer a new meat offering unto Yahweh," Lev. 23:15-16.

Seven Sabbaths were to be "complete." The Hebrew for "complete" is tamiym. Tamiym has to do with being perfect, without blemish, without spot, undefiled, full, perfect, etc. Animals that were sacrificed were to be without blemish (tamiym). A blemish free week to Yahweh and the Hebrews was a week that started with day one and ended with the seventh day Sabbath.

Seven Sabbaths, seven sevens, seven memorials of the Creator and His creative powers were to be counted. The count began at the true beginning, the first day of the week. Seven has to do with spiritual perfection and completion. It has to do with rest, covenant, promise or an oath, sanctification, etc., etc. Seven perfect sevens are counted and on the day after the seventh Sabbath, the seventh seven, which is the beginning of another count, a new wave offering was to be brought forth. Yahweh swore by Himself seven times, or He sevened Himself seven times. On the fiftieth day which is the first day of the eighth week, a new beginning and new offering is brought forth!

THE NEW FIRSTFRUITS

On the fiftieth day a new wave offering is brought forth, "Ye shall bring out of your habitations two wave loaves of two tenth deals: they shall be of fine flour; they shall be baken with leaven; they are the firstfruits unto Yahweh," Lev. 23:17.

The original "wave sheaf" typifies Yahshua as the firstfruits, the beginning, the firstborn from the dead. It was offered without leaven, for Yahshua was without sin. But now Israel was to bring forth two wave loaves, which were to be baked with leaven.

This began to be fulfilled fifty days after Yahshua had ascended into heaven to be received as the firstfruits from the dead. Yahshua ascended before Yahweh on the first day of the week (Jn. 20:17). Seven Sabbaths, seven perfect weeks were fulfilled and on the fiftieth day the Holy Spirit was poured out upon the disciples raising up a new era, a new dispensation, a new covenant. It was called the New Testament or New Covenant Assembly, which also would be kept in the Father Yahweh's name.

The Hebrew term for "firstfruits" in Lev. 23:17 is bikkuwrim. Bikkuwrim is defined as; from 1069; the first-fruits of the crop. Notice that it comes from another Hebrew term, which is bakar. Bakar is defined as; a primitive root; properly, to burst the womb, i.e. (causatively) bear or make early fruit (of woman or tree); also (as denominative from 1061) to give the birthright.

These are baked with leaven, thus they are sons of, descendants of Adam. These are to be the first of the earth who will be born into the kingdom of heaven, into the family of Elohim. It is Yahshua's firstfruits assembly, which was begun on the day of Pentecost as reported in Acts chapter two.

Yahshua's firstfruits are also recorded in Revelation chapters seven and fourteen. Yes, they are revealed to be of the house of Israel in Revelation chapter seven, but these are only the firstfruits of the complete harvest of all the house of Israel and non-Hebrew nations who come to possess the Spirit of the Savior Yahshua by repenting and being grafted into Yahshua the Messiah.

These are called out of the world, but while still remaining in the world, being the sons of Adam, there is still leaven, sin working in their fleshly bodies (Ro. 7, esp. vv. 13-25; Gal. 5:16-17, etc.).

But the day will come when they and all of Yahweh's people will be given new bodies, for the fleshly body cannot inherit the kingdom of heaven. The new bodies will no longer have any tendency or desire to do works contrary to Yahweh's righteous laws and commands.

This is how the Scriptures and the first month of the year should be utilized to bring forth Yahshua the Messiah. The focus is on Him and His power to be our Passover Lamb, to completely unleaven us and to serve as our beginning our furstfruits from the dead so that we may be able to have eternal life and also so that the creation may be delivered into the hand of the saints of Yahweh forever. HalleluYah!!!!!


To be Continued…..

This is the story of a spiritual encounter between Elder George E. Paña, representing Yahweh's Evangelical Assembly and Mr. Elido B Oracion, a defender of the Jehovah's Witnesses. It took place on February 20, 2006, at Crystal Motorcycle Transport Terminal, Crossing Sayre Highway-BUSCO Rd., North Poblacion, Maramag, Bukidnon, Philippines.
By Elder George E. Paña
lder Paña is at the affirmative side while the Jehovah's Witness is at the negative. There were some spectators during the time of discussion.
Elder Paña:
In your presence, my dear friend, Jehovah's Witness and others who are here, I can prove by the references I have now in my hands, that Yahweh is the correct, original and true pronunciation of the heavenly Father's name and I can prove also with many references even your own books, that Jehovah is an incorrect, and erroneous pronunciation of our Creator's name.
(Then Elder Paña read the references proving that Yahweh is the true name of the heavenly Father. The references he utilized are The Word of Yahweh, New English Bible, Christian Community Bible, Encyclopedia Judaica, Encyclopedia Americana, Grolier Encyclopedia, Catholic booklets, Jehovah's Witness Books and a Filipino Catholic Bible.)
Jehovah's Witness:
He read their book and said, "We agree that Yahweh is true, but we utilize the name Jehovah because of people's familiarity with it since the 14th century."
Elder Paña:
Can you read in the Holy Scripture where popularity should be a reason to call upon a name and worship it, even though it is erroneous and false?
Jehovah's Witness:
You are a deceiver!
Elder Paña: You are calling me a deceiver, Mr. Jehovah's Witness. May I ask you a question? Is the name Yahweh true or false?
Jehovah's Witness:
True, of course!
Elder Paña:
How can you call the one a deceiver who is telling you the truth? The one who is teaching or telling people a falsehood is the true deceiver and liar.
Jehovah's Witness, commenting desperately:
I can't believe your doctrine. You are just a very little group. We, the Jehovah's Witnesses, are millions in number all over the world.
Elder Paña:
Can you read a text in the Word of Yahweh telling us that we must not believe the little group's teachings even though they are true? My friend, Mr. Jehovah's Witness, please read Mat. 7:13-14 (Enter ye in at the strait gate: for wide is the gate, and broad is the way, that leadeth to destruction, and many there be which go in thereat: Because strait is the gate, and narrow is the way, which leadeth unto life, and few there be that find it.); Lk. 12:32 (Fear not, little flock; for it is your Father's good pleasure to give you the kingdom.); and Dt. 7:7 (Yahweh did not set his love upon you, nor choose you, because ye were more in number than any people; for ye were the fewest of all people.)