This issue of YAHSHUA'S WITNESS MAGAZINE
was published for October-December-2016

Inside this issue:

Should A New Testament Believer Observe The Sabbath Day?

EDITOR:

Jerry Healan

PROOFREADERS:

Frances Healan, Jerry Healan, Jerry Osborne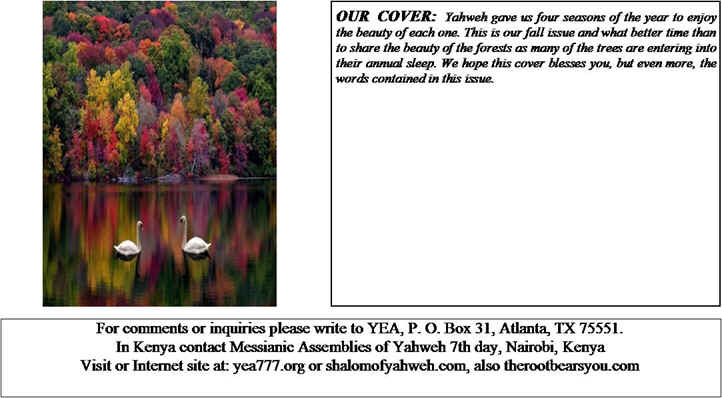 THOUGHTS
Whew! We finally got this issue of YWM finished! There has been so much going on! Elder Healan has been displaced (in certain ways) for the last few months. We thought we were ahead of things, but then there was the trip to Ohio to visit with the Sabbath group and baptize 5 men there, on the last Sabbath in July. Then came the Unity Conference at YRM in Missouri. Then the feast came early this year so there was time for that. It was an awesome feast, by the way. Elder Healan is now going into 3 prisons each month, the Federal facility at Beaumont, Texas, which is about a 250 mile drive one way. Then the Wynne Unit at Huntsville, Texas, and the Beto Unit at Tennessee Colony, Texas. That is a 497 mile round trip, but the fellowship is awesome!
He was invited to Spring Branch, Texas for the dedication of a new meeting hall built on Brother Jesse Cervantes' property. That was another tremendous blessing! Fellowship with the brethren is always so sweet! Of course, we don't all agree on everything, but we generally try to focus on the things that we are in agreement with.
The article on the Tzaddi was almost completed, but an improper shut-down of his computer caused that portion to be erased from his computer, so the whole article had to be rewritten. Delay...delay...delay! However, we certainly hope that you will be greatly blessed and encouraged by that article. The author certainly was.
Everywhere he has gone, and I mean everywhere, everyone is asking about Chloe. You wouldn't believe the great number of people everywhere who know about her and are concerned, praying for, and assisting in some way. It is so awesome to see! We pray for Yahweh's great blessings on everyone who has involved themselves in this matter whether it be for prayer, or other help, and we certainly thank the brethren in the assemblies who have prayed for and also added financial help, along with advice on how to deal with cancer. It truly is an education.
The Healan's daughter Michelle, Chloe's mother, has proven herself to be quite an author as she posts many things concerning Chloe on Facebook, along with her own thoughts in line with the Scriptures. It has had a tremendous impact on them to wake them up to the reality of life with a Creator rather than a life without, or somewhat distant. Nothing happens without purpose, it's just that those who are wise will begin to be instructed while unbelievers will only rush headlong to destruction.
Let's shift gears somewhat….when we think about what is going on in our country in these last days, it is astonishing to think back about the country that we were born into and grew up in and compare it to today (for those who are a little older). This country was vital and important, and seemed to at least have some direction and even morals (we might call them "scruples). Someone was asked recently what he thought about the election, and his response was, "It stinks!"
While there may have been immorality in the Whitehouse in other administrations, it was kept hush, hush, so to speak. Then along came Bill Clinton and his sexual escapades to the point of having a female intern service him while he was at his desk in the Whitehouse, but what about the other situations that he was involved in including rape, of all things! And yet, the Democrats and media excused him using the excuse, "He needs to get on with the people's business." Of course, when the Democrats find any Republican in a compromising situation (not excusing it, folks), they are exposed, vilified, and driven from office.
Then along comes Barry Sotero, or Barak Obama (which ever one he is), who gave the outer image of being a stable married man, yet in his second administration stands up for "gay marriage", transgender-ism, and such like. It is almost breath-taking to see how low this nation has sunk in the morass of corruption and decay since that time. It's like we have jumped over the cliff and as long as we are still in the plummet we are alive, but soon we will come to the "bottom" of it and the "sudden stop" will be the dreadful end.
We have entered into a great period of chaos. The chaos of World War II had an impact on this nation, as many had to go fight and sacrifice their lives for victory. But the nation itself, remained fairly stable because she fought elsewhere. But now, we have been made so vulnerable that the chaos can easily touch our own shores and people. We had a stable country after WWII for which we all should be thankful. However, because of our corruption in every avenue, the chaos of war, suffering, destruction and death is on its way here.
While Donald Trump could possible attempt to restore our nation, it simply can't be done without our turning to our Great Creator. If Trump does win the election in some way, you can bet that the liberal media will bring great grief upon him, and he won't get any help from the very party that he is supposed to be representing. Such are the times in which we are living.
The International Bankers could also show their anger with the people by pulling the plug on the debt that has been piling up at incredulous rates, the economy collapse, and it would be over. We do understand that this country will continue to exist as long as Yahweh wants it to, against all odds, but there was a time when He was through with the northern kingdom of Israel, and also a time when He was through with the southern kingdom of Judah. Judah has suffered destruction twice and the Scriptures reveal even a third time that hasn't even occurred as yet. We are facing troublous times! Let's get our spiritual armor on and get the extra oil for our lamps. We will be needing it very soon! JH

We recently received the following letter from an inmate in Georgia questioning our use of El, Elohim and other appellatives in reference to Yahweh. He is not the only one questioning this. We know the root cause of this confusion. We need to dispel the misinformation that is causing confusion among the believers.
By Jerry Healan
Dear Jerry Healan, Greetings in the name of Yahweh and Yahshua Messiah. I am writing you this short letter to ask you this question because I am concerned about this very important matter. Why do you call our Heavenly Father Yahweh with the name Elohim which is used by Canaanites in calling on the titles of pagan gods? Based on my studies, I know that Yahweh is not a god, or Elohim, or Adonai, or lord, or kurios, or Jehovah, or Jesus, or any other false names. The Interpreter's Dictionary of the Bible, Volume 1, page 817, under Demonology says, "The word Elohim (plural of El) means demons or gods. These pagan titles were in fact only accepted by the Israylites after coming into the land Yahweh promised them which was occupied by Canaanites whose worship was that of demons, and of whom Yahweh had warned His people to avoid. I like reading your magazines, but when I see you write Yahweh the Elohim, or calling Yahweh Elohim – this really is bothersome to me. Respectfully, WH/GA.
It is so easy to confuse, and deceive people when they only have an English version of the Scriptures. The very first sentence of the Scriptures says in the Hebrew :

(Remember that Hebrew reads from right to left.)
Amazingly, Yahweh has marked His word with the number seven, and this very first verse of Scripture contains only seven words. (Count them yourself.) But let's not stop there. There are twenty eight (28) letters that make up these seven words. Seven times four equals 28 (7 x 4 = 28). Is this a coincidence?
Furthermore, the first three words contain fourteen letters. Fourteen is seven times two. (14 = 7 x 2) And the last four words contain fourteen letters (14 = 7 x 2).
The noun and verb of the sentence is contained in the first three words, while the predicate contains the four words that receive the action which is the heavens and the earth. (3 + 4 = 7)
If the word "Elohim" is replaced with "Yahweh" then there may still be seven words, but the rest of the pattern is destroyed!
There are many, many more wonders associated with this verse that I won't address here, but suffice it to say that replacing "Elohim" with "Yahweh" would destroy them all.
The name Yahweh (hwhy) isn't introduced into Scripture until the second chapter of Genesis (Gen. 2:4). Here is how it looks in the ISA Interlinear: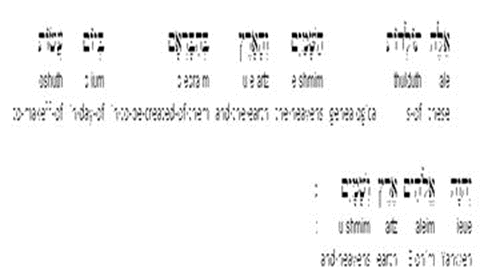 Notice that the name Yahweh (hwhy) is utilized in combination with Elohim (~yhla)!
Let's take a look at other places in the Scriptures that are revealing: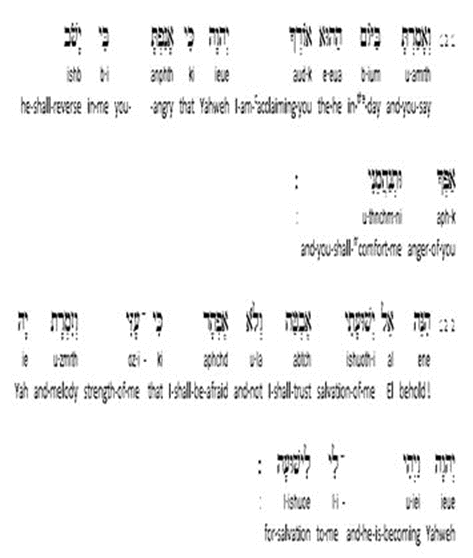 This is Isaiah 12:1-2. Here we have a combination of Yahweh (hwhy) in verse one and he is being called "The El (la) of my salvation" as well as Yah (hy) Yahweh (hwhy) in verse 2!
The English is rendered, "1And in that day thou shalt say, O Yahweh, I will praise thee: though thou wast angry with me, thine anger is turned away, and thou comfortedst me. 2Behold, El is my salvation; I will trust, and not be afraid: for the Yah Yahweh is my strength and my song; he also is become my salvation," Isa. 12:1-2.
Again, He says: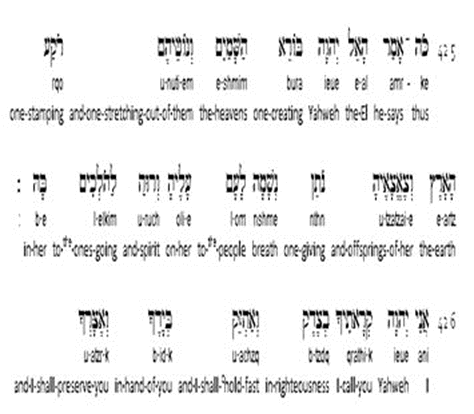 This is Isaiah 42:5-6. The El (lah) and Yahweh (hwhy) are exhibited together in verse 5! The English version reads, "5Thus saith the El Yahweh, he that created the heavens, and stretched them out; he that spread forth the earth, and that which cometh out of it; he that giveth breath unto the people upon it, and spirit to them that walk therein: 6I Yahweh have called thee in righteousness, and will hold thine hand, and will keep thee, and give thee for a covenant of the people, for a light of the Gentiles."
Now, let's go back in Scripture to 1 Ki. 18 and see what the Scriptures look like in the event with EliYah: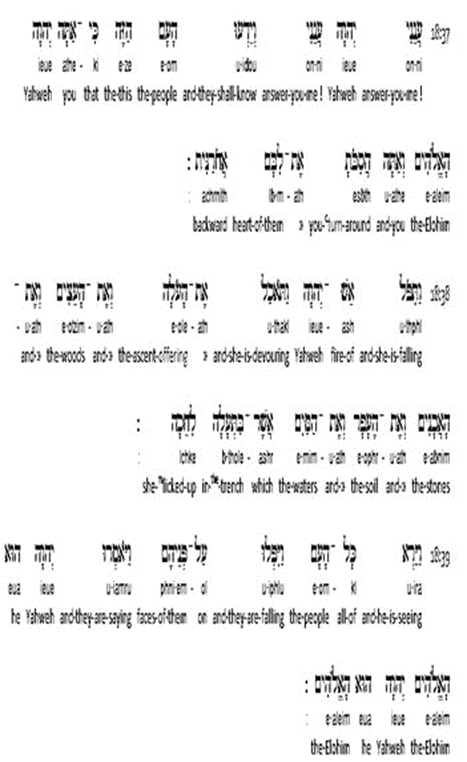 The English rendering, "36And it came to pass at the time of the offering of the evening sacrifice, that EliYah the prophet came near, and said, Yahweh Elohi of Abraham, Isaac, and of Israel, let it be known this day that thou art Elohim in Israel, and that I am thy servant, and that I have done all these things at thy word. 37Hear me, O Yahweh, hear me, that this people may know that thou art the Elohim Yahweh, and that thou hast turned their heart back again. 38Then the fire of Yahweh fell, and consumed the burnt sacrifice, and the wood, and the stones, and the dust, and licked up the water that was in the trench. 39And when all the people saw it, they fell on their faces: and they said, Yahweh, he is the Elohim; Yahweh, he is the Elohim," 1 Ki. 18:36-39.
Now, let's take a look at the book of Judges: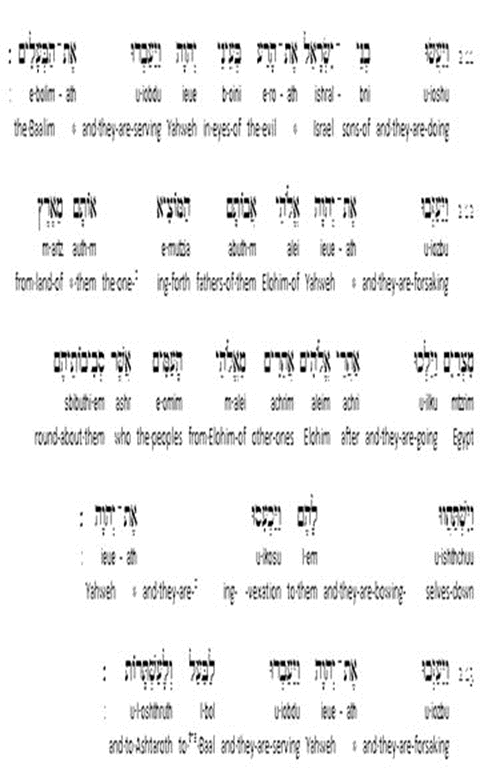 It reads in the English, "11And the children of Israel did evil in the sight of Yahweh, and served Baalim: 12And they forsook Yahweh the Elohi of their fathers, which brought them out of the land of Egypt, and followed other elohim, of the elohim of the people that were round about them, and bowed themselves unto them, and provoked Yahweh to anger. 13And they forsook Yahweh, and served Baal and Ashtaroth," Judg. 2:11-13.
Isn't this interesting! Yahweh is called Elohim in the Scriptures, while the pagan deities are also called elohim! Isn't this in line with what The Interpreter's Dictionary of the Bible declared? As a matter of fact, Yahweh refers to Himself as El/Elohim in His own word!
Here is the problem; you have been deceived by the world, and then when you turned to Yahweh, you were still deceived by those who may declare Yahweh, but they themselves can't distinguish the TRUTH of the matter!
Elohim is a common noun like man. I am a man, you are a man. We are identified by our name which is a proper noun. I am the man (common noun) Jerry Healan (proper nouns). You are the man Winston Hayles. We live in the natural physical world. Then there is the spiritual world. The great ones of the spirit world would be called elohim. In reality, there is only one Elohim whose name is Yahweh, but there are false elohim named Zeus, Jupiter, Aphrodite, Ishtar, Tammuz, etc., etc. who are being worshipped by deceived humanity.
THE TRUTH ABOUT EL
Had the people teaching you really understood the truth, they would have understood the real meaning of the Hebrew word El (la) which is generally translated as God in the English language.
The more ancient Pictorial Hebrew is an excellent tool that we can utilize to understand the true meaning of the word El. El looks like this la in the more ancient Pictorial Hebrew. What, therefore, does it mean?
The first letter is the aleph (a) which looks like the head of an ox. It serves as the number one. It has to do with that which is first, chief, the head, strength, etc.
The lamed (l) is the picture of a rod of authority or a shepherd's rod. The word lamed also has to do with teacher, teach, instruct, etc. We can deduct that El means strong, first, chief, head (a) authority, shepherd, teacher (l).
As a matter of fact, Peter calls Yahshua the chief (a) shepherd (l), "1The elders which are among you I exhort, who am also an elder, and a witness of the sufferings of the Messiah, and also a partaker of the glory that shall be revealed: 2Feed the flock of Yahweh which is among you, taking the oversight thereof, not by constraint, but willingly; not for filthy lucre, but of a ready mind; 3Neither as being lords over Yahweh's heritage, but being ensamples to the flock. 4And when the chief Shepherd shall appear, ye shall receive a crown of glory that fadeth not away," 1 Pet. 5:1-4.
Isaiah prophesied, "Therefore Yahweh himself shall give you a sign; Behold, a virgin shall conceive, and bear a son, and shall call his name Immanuel," Isa. 7:14. Immanuel means "El is with us."
The angel told Yoseph, "18Now the birth of Yahshua the Messiah was on this wise: When as his mother Miriam was espoused to Yoseph, before they came together, she was found with child of the Holy Spirit. 19Then Yoseph her husband, being a just man, and not willing to make her a publick example, was minded to put her away privily. 20But while he thought on these things, behold, the angel of Yahweh appeared unto him in a dream, saying, Yoseph, thou son of David, fear not to take unto thee Miriam thy wife: for that which is conceived in her is of the Holy Spirit. 21And she shall bring forth a son, and thou shalt call his name Yahshua: for he shall save his people from their sins. 22Now all this was done, that it might be fulfilled which was spoken of Yahweh by the prophet, saying, 23Behold, a virgin shall be with child, and shall bring forth a son, and they shall call his name Emmanuel, which being interpreted is, El with us," Mt. 1:18-23.
Not only was Isaiah 7:14 fulfilled, but so was Isaiah 12 because Yahshua means Yahweh the Savior, so El came to be with us (Immanuel) to become our salvation (yehshua) whose name is Yahweh!
The Pictorial Hebrew reveals the true character of the name Yahweh! It is efei in Pictorial Hebrew. Reading from right to left we have the arm (yod = i) revealed (hei = e) nail (waw = f) revealed (hei = e). The truth was incorporated into the Creator's own name! He would become what He has to become in order to save His people! He emptied Himself of the power, honor, authority, esteem that He has to become a man and dwell among us, "5Let this mind be in you, which was also in the Messiah Yahshua: 6Who, being in the form of Elohim, thought it not robbery to be equal with Elohim: 7But made himself of no reputation, and took upon him the form of a servant, and was made in the likeness of men: 8And being found in fashion as a man, he humbled himself, and became obedient unto death, even the death of the cross. 9Wherefore Elohim also hath highly exalted him, and given him a name which is above every name: 10That at the name of Yahshua every knee should bow, of things in heaven, and things in earth, and things under the earth; 11And that every tongue should confess that Yahshua the Messiah is Adon, to the glory of Yahweh the Father," Phil. 2:5-11.
Of course He was rejected and still is by His people. Sadly, so many who call upon the name Yahweh can't believe that Yahshua was Yahweh. So many can't believe that He was the One who has existed for all eternity at the Father's side. And too many of those people are TEACHERS!
The name Yahshua is revealed in the Pictorial Hebrew as osfei. John writes, "37In the last day, that great day of the feast, Yahshua stood and cried, saying, If any man thirst, let him come unto me, and drink. 38He that believeth on me, as the scripture hath said, out of his belly shall flow rivers of living water. 39(But this spake he of the Spirit, which they that believe on him should receive: for the Holy Spirit was not yet given; because that Yahshua was not yet glorified.)," Jn. 7:37-39.
He had not yet had the nails driven through His hands, so the Holy Spirit was not available to His disciples. After His death and resurrection His disciple Thomas wasn't with the rest of the disciples when He revealed Himself, "24But Thomas, one of the twelve, called Didymus, was not with them when Yahshua came. 25The other disciples therefore said unto him, We have seen the Adon. But he said unto them, Except I shall see in his hands the print of the nails, and put my finger into the print of the nails, and thrust my hand into his side, I will not believe. 26And after eight days again his disciples were within, and Thomas with them: then came Yahshua, the doors being shut, and stood in the midst, and said, Peace be unto you. 27Then saith he to Thomas, Reach hither thy finger, and behold my hands; and reach hither thy hand, and thrust it into my side: and be not faithless, but believing. 28And Thomas answered and said unto him, My Master and my Elohim," Jn. 20:24-28.
Thomas would have been speaking Hebrew. He would have declared "Adonai ve Elohi!" (Ynda yhlaew) He knew Who Yahshua was at that moment!
The name Yahshua is revealed in the Pictorial Hebrew as osfei. This means hand (i) revealed (e) nail (f) teeth (s) fountain (o). In other words, once the nail (f) is revealed (e) to be driven through the hand (i), we can drink (s) of the fountain (o) of living waters, or eat (s) of the fountain (o) of the bread of life!
Yahshua not only was revealed to have special healing powers, but also power to raise the dead, as well as power over the elements. He is the Word of Yahweh and when He spoke to the chaotic waters "Peace, be still," He said "Shalom, raphah."
This would be in conjunction with Psalms 46, "1Elohim is our refuge and strength, a very present help in trouble. 2Therefore will not we fear, though the earth be removed, and though the mountains be carried into the midst of the sea; 3Though the waters thereof roar and be troubled, though the mountains shake with the swelling thereof. Selah. 4There is a river, the streams whereof shall make glad the city of Elohim, the holy place of the tabernacles of the most High. 5Elohim is in the midst of her; she shall not be moved: Elohim shall help her, and that right early. 6The heathen raged, the kingdoms were moved: he uttered his voice, the earth melted. 7Yahweh of hosts is with us; the Elohim of Jacob is our refuge. Selah. 8Come, behold the works of Yahweh, what desolations he hath made in the earth. 9He maketh wars to cease unto the end of the earth; he breaketh the bow, and cutteth the spear in sunder; he burneth the chariot in the fire. 10Be still, and know that I am Elohim: I will be exalted among the heathen, I will be exalted in the earth. 11Yahweh of hosts is with us; the Elohim of Jacob is our refuge. Selah," Psa. 46:1-11.
Yahshua is El/Elohim as much as the Father is El/Elohim. He came from the right hand of the Father. He came to declare the Father because no one had known Him until Yahshua came to declare and reveal Him. It is Yahshua who has always dealt with the heavens, and earth, and man.
ADON/ADONAI
Let's take a look at "Adon" in the Pictorial Hebrew. It looks like this nfda. The Aleph (a) has to do with strength, first, chief; the dalet (d) is the picture of a door; the waw (f) is a nail or tent peg; and the nun (n) is the picture of a seed, child, heir. From this we can deduct, the strong/chief (a) door (d) established over (f) the children/heirs (n).
Yahweh utilizes this term to describe Himself in many places, but chiefly in the prophets. Let's look in Isaiah, "Therefore saith the Master (adon), Yahweh of hosts, the mighty One of Israel, Ah, I will ease me of mine adversaries, and avenge me of mine enemies," Isa. 1:24. He specifically applies this term to Himself in Isaiah 3:1; 10:6, 33; 19:4; 51:22; Micah 4:13; Zech. 4:14; 6:5; Mal. 3:1.
The terms El, Elohim, Adon, and Adonai are common nouns that can and do apply to Yahweh, other false gods, deities, angels, and even men. They are descriptive. The Apostles utilized the term Adon, Adonai as related to Yahshua the Messiah prolifically. He is our Adonai! Well... he may not be yours and other's who ignorantly forbid these terms while Yahweh utilizes them throughout His word for Himself and others. But if He isn't yours because of your refusal to utilize these terms, then you aren't understanding exactly Who He truly is!
Here is one for you, "1Yahweh said unto my Master (Adonai), Sit thou at my right hand, until I make thine enemies thy footstool. 2Yahweh shall send the rod of thy strength out of Zion: rule thou in the midst of thine enemies. 3Thy people shall be willing in the day of thy power, in the beauties of holiness from the womb of the morning: thou hast the dew of thy youth. 4Yahweh hath sworn, and will not repent, Thou art a priest for ever after the order of Melchizedek. 5Yahweh at thy right hand shall strike through kings in the day of his wrath," Psa. 110:1-5.
The modern day Hebrew versions of verse five reads "Adon" but it is admitted that originally the Sacred Name Yahweh was inspired to be placed there. This is known as only one of the 134 places where the Hebrew Scribes replaced the name Yahweh with Adon. Why? Because they couldn't understand why the Adonai at the right hand should be called Yahweh. It interferes with their own uninspired mindset of Yahweh. There simply can't be another Yahweh! But Yahshua, Himself, declared that He was originally with the Father in glory, honor, esteem, "And now, O Father, glorify thou me with thine own self with the glory which I had with thee before the world was," Jn. 17:5.
How about your own mindset? Are you inspired enough to receive the truth? Or will you reject it and follow the uninspired Scribes as well as those who taught you error! Your teachers may utilize the name Yahweh and refer to the Torah, but they only want to focus on the Father. They are in denial of the Son Yahshua as to Who He really is.
Yahshua is the door, the way to the Father (Jn. 10; 14:6. If we have seen Him, we have seen the Father (Jn. 14:9). The disciples/apostles saw Him and have declared the truth to us who can't physically see Him, but see Him in the Spirit. Sadly, I know who your teachers are and they don't even believe that Yahshua existed before His human birth. Therefore, they make the Scriptures to be lies.
THE BIG PROBLEM
Here is the big problem. There is an evil spirit in this world that causes people to be led into idolatry. He seeks to exalt Himself, but have you noticed that He utilizes the things that Yahweh has created to bring about his own purposes? Let's examine the process.
The very first letter of the ancient Hebrew alphabet is the aleph (a) which looks like and is represented by the head of an ox. Satan took this very first letter and incorporated it, physically, into His own worship. Originally, all of the gods were physically represented as "bull" gods. Remember the part man, part bull statues of Assyria? Remember that Pharaoh of Egypt was worshipped as the son of god through the Apis bullock? Remember that Israel made an image of the bull in the wilderness and worshipped it calling it Yahweh when Yahweh had already commanded them not to make any graven images? (Ex. 20:4-5)
The very last letter of the Hebrew alphabet is the tau (t). Satan certainly is having a heyday with this symbol isn't he? We see crosses in almost all Christian communities and churches. Of course, it was also utilized anciently. Thus, so many of our end-time believers, probably including yourself, can't believe that Yahshua died on a cross.
Then there is the sun, the moon, and the stars that Yahweh created. Satan has hijacked them to utilize in his pagan idolatrous worship.
Look at what is taking place in these last days. The LGBT movement has hijacked the heavenly rainbow, a symbol of Yahweh's covenant, and His light, to be their symbol! It is all BLASPHEMY!
Do we now have to reject the rainbow? Do we reject the sun, the moon, the stars? Do we reject the Hebrew alphabet because of Satan's ability to take the aleph (a), and the tau (t) to cause men to worship their image?
As Yahweh says, "11Hath a nation changed their gods (elohim), which are yet no gods (elohim)? but my people have changed *their glory for that which doth not profit. 12Be astonished, O ye heavens, at this, and be horribly afraid, be ye very desolate, saith Yahweh. 13For my people have committed two evils; they have forsaken me the fountain of living waters, and hewed them out cisterns, broken cisterns, that can hold no water," Jer. 2:11-13.
(*Note: In reality, this should be read as "My.")
Yahshua's very own name identifies Him as the fountain of living waters. He can't claim this unless He is the One revealed in the Scriptures! He came to His own creation and His creation knew Him not. He came to His own people and they received Him not (Jn. 1:10-11). Those who refuse to utilize Yahweh's own terms, as well as deny Yahshua's pre-existence are fulfilling these Scriptures.
While so many are physically profiting from the sale of these idols and images, along with all kinds of so called spiritual literature, books, faith, etc. The true profit is that of the Spirit. The physical profit will fail them in the day of Yahweh's wrath. But they shall have received their reward. We should not, must not sell that which is inspired of the Holy Spirit which teaches the people how to worship, serve, and know Yahweh our Elohim, our Savior and Redeemer! Nor should we make images of them to worship them and sell those images for trinkets, necklaces, bracelets, etc.
Did you know that the word Canaanite means "merchant!?" Those who "merchandise" Yahweh's word are following the practices of the Canaanites!
AMEN/AMEIN
Years ago, when I first began to walk among the Sacred Name brethren, they almost completely avoided saying "Amen/Amein" after a prayer, or any other time. They would end a prayer with HalleluYah instead.
The reasoning was that there was an Egyptian god named Amon/Amen Ra, then there was a Pharaoh who was worshipped named Amen Hotep. Supposedly, (just like some proclaim that the terms El, and Elohim), the term crept into the Hebrew language through their contact with the Egyptians. In the same manner, El and Elohim crept into the Hebrew language through their contact with the Canaanites.
Once again, because the people were utilizing only English Scriptures, the original Hebrew was simply covered up. I actually wrote an article entitled "Where is the Amen?" and boy did I get creamed for that! I was warned by some of the old timers to never mention that word again. It was evil so people in the truth never utilized it.
Sadly, these people never had the Scriptural tools that are available to us today, nor did they have any other Hebrew available than the modern day version, which few studied anyway.
When the Word of Yahweh visited Abram witnessed in Genesis 15, Abram complained that Yahweh had given him no heir from his loins, but Yahweh told him to look up at the stars of heaven because his seed would be that numerous. Abram BELIEVED Yahweh! The word "believed" comes from the Hebrew amen/amin (!ma)! This word is vowel pointed as amin, emin, aman, amen, amein, etc. throughout the Scriptures! It has to do with faith, believing!
One of the best places to show its importance is found in 1 Chronicles 16:36, "Blessed be Yahweh Elohim of Israel for ever and ever. And all the people said, Amen, and praised Yahweh."
The word is perfectly vowel pointed in the Hebrew to say Amen (!mea')!
Do you see how people can become confused and misled because their leaders warn them away from certain things. If they only utilize the English version of the Scriptures the people can't see the real truth in the Hebrew.
Then some concoct a scheme to tell the people that there were originally two versions of the Scriptures, to wit, a Yahweh version and an Elohim version and the Scribes combined the two thereby corrupting the name Yahweh.
Supposedly, the Scribes of the Elohim version were seeking to purge the name Yahweh from theirs, but if such is the case, they miserably failed because the Hebrew Scriptures that contain the term Elohim has His name Yahweh in chapter two in combination with Elohim...Yahweh Elohim! Plus, the name Yahweh appears at least 6,823 times in the version that also contains the terms El, Elohim, Adon, Adonai, Amen, Amein, etc.!
Hebrew is the heavenly language. Yahweh's Spirit worked on men to record His word. Nothing comes before Yahweh, nor after him. He inspired his servants to utilize His name Yahweh, absolutely! But He also inspired them to record the terms El, Elohim, Adon, Adonai, amin, emin, amen.
So what if the Canaanites worshipped a deity named El (la, plural Elohim)!? Yahweh's word reveals that el and elohim are simply common nouns. They may have been attempting to worship the heavenly deity who was the chief (a) authority (l), but Yahweh reserved His name to be known through the Hebrews!
So what if the Egyptians worshipped a deity named Amon, Amen!? Maybe they were attempting to worship the One Who is Faithful! But when Moses and Aaron revealed Yahweh's name to the Pharaoh, he said, "Who is Yahweh, that I should obey his voice to let Israel go? I know not Yahweh, neither will I let Israel go," Ex. 5:2.
Yahweh is revealing Himself as the true El, the true Elohim, the One Who is Faithful (Amen, Emun). To remove these words from Yahweh's inspired Scriptures has caused one group to produce Scriptures that really don't make any sense. And because of their disbelief as to Who Yahshua really is, have had to change many Scriptures to fit their own ideas. They have even had to change revealed names of men like Eliyah, Daniel, Ezekiel, Yoel, etc., etc.
They have broken a cardinal rule because Yahweh warns us not to take away, nor add to His word, "Ye shall not add unto the word which I command you, neither shall ye diminish ought from it, that ye may keep the commandments of Yahweh your Elohim which I command you," Dt. 4:2.
There it is right there! He calls Himself Yahweh Elohekim (their Elohim):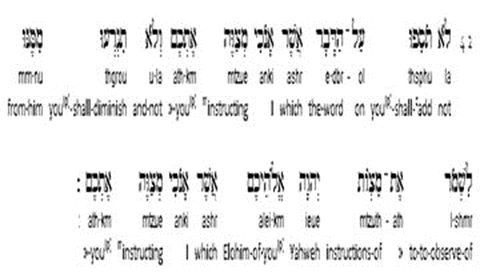 "What thing soever I command you, observe to do it: thou shalt not add thereto, nor diminish from it," Dt. 12:32.
"5Every word of Elohim is pure: he is a shield unto them that put their trust in him. 6Add thou not unto his words, lest he reprove thee, and thou be found a liar," Prov. 30:5-6.
"18For I testify unto every man that heareth the words of the prophecy of this book, If any man shall add unto these things, Elohim shall add unto him the plagues that are written in this book: 19And if any man shall take away from the words of the book of this prophecy, Elohim shall take away his part out of the book of life, and out of the holy city, and from the things which are written in this book. 20He which testifieth these things saith, Surely I come quickly. Amen. Even so, come, Adonai Yahshua," Rev. 22:18-20.
Yahweh fully reveals Himself to be worthy to be called El, Elohim, Adon, Adonai, the Amen, Amein, etc. These and other terms reveal his honor, his majesty, his esteem. It is the deceiver, the serpent who has taken that which belongs to Yahweh and utilized them in paganistic idolatry among the heathen. We must rightly divide Yahweh's word of truth and utilize that which belongs to Him for his honor!
So, yes brother, we do utilize these terms that are inspired in Yahweh's own word. I won't beat around the bush. Your teachers have erred, and led you and others also into error. No, we don't utilize God, Jehovah, Jesus, kurios, etc. They are false terms, but we do freely utilize the terms inspired in Yahweh's own word.
I hope that this explanation will ease your mind, and hopefully be an aid in instructing you in the truth of the matter. But if it still causes problems for you, those who have led you into this error have done the same thing that the worldly ministers have done. You know, when we tell them the truth about the names, the Sabbath, the holy days, etc., etc. they either reject it outright, or only think about it for a few seconds before going their merry way.
The words el, elohim, adon, adonai, amen, amein all make sense when looked at through the Pictorial Hebrew as do the names Yahweh and Yahshua.
Our encouragement is that you repent, embrace the truth (-s) of the matter and serve and worship Yahweh in accordance with His inspired word, and not with those who have erroneously taken His own inspired Scriptures, chopped things out of them and are presenting a corrupted version and way that is not good! JH
Order an eye-opening Bible Study!